Lots done, lots more to go!
Boy, have I been a busy bee lately!
1) Finished the London Beanie for the Knitting Olympics.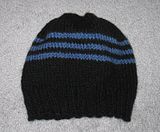 What did I learn during this challenge?
a) knitting in the round, using a circ
b) using 2 circs for the smaller diameter as I got near the top
c) changing colours in knitting -- although I have to learn to how to avoid colour jogs when knitting in the round (next time)
d) long-tail cast on, one hand only (I used to use the thumb method which requires two hands....I've nixed doing that again as I seem to cast on too tightly this way -- see prev post for details)
2) Finished a promised 12" square for a comfortghan.


What did I learn with this project? That not all 50g balls of ww yarn are enough for a 12" square. I had to fudge the last row and did a row of hdc's instead of dc's. But, it made my measurements perfect!
3) Started my Crochet Olympics project
(called Weekend Wonder by FCEC)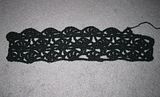 I'm using Shetland Chunky in a very dark green, which happens to be the same as the pic in the magazine!
AND, once I've finished this sweater, I'll be making another three London Beanies: one for my BIL Jamie and one each for the kids' godfathers who happen to both be named John. (Yes, it sometimes does get confusing.)