New WIM's!!
I bought the new Family Circle Easy Crochet magazine last Friday evening. And do I ever love it! There are modern twists/yarns to vintage 70's patterns, really pretty fall fashions that would be great for work or going out, a section on felting and some cute little kids patterns too.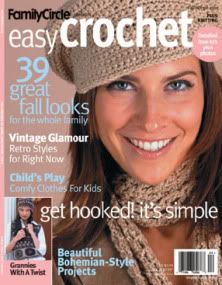 I'm thinking of crocheting this one first ("A Fine Romance"):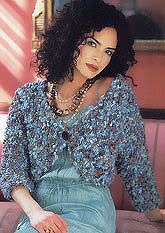 I like the look of the Patons Pooch yarn, however I have to feel it myself to see if I really want to use it. Since it's calling for a bulky weight yarn, I might even use some black boucle I bought at the Patons sale in Listowel.
Next up is the one called "Border Patrol". I figure it would be great for the office and to wear to church. Not too sure I like the look of the Patons Mosaic yarn though. I have got to find something else in my stash for this instead.
For something fun, I thought about "Floral Sense". Cute capelet isn't it? Another bulky yarn here, which is good 'cause I have tons in my stash. I really love this colour thorugh. What might deter me is the picot edging and we know how I feel about those... There's also a hat to match which is adorable, but I'm not much of a hat person. They don't suit me much.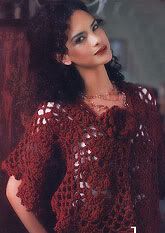 This coat also looks so warm & cozy and it's aptly called "Comfy & Cozy". This one's done in Patons Bohemian but I think I might have some Lionbrand Homespun in nice autumn colours that would do the trick. Now I don't know how warm it would be in the v-stitch though. Would it look to holey?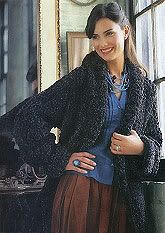 So, have I tempted you enough to buy this magazine yet? I must say, I like it much better than some of the other crochet mags I've seen out there lately. JMHO. :-)